Our 12×12 Scrapbook Kits allow the creative side of the girl in your life to SHINE. While exploring her inner artist by a keepsake scrapbook, she will learn about 20 successful females. Once finished she will feel empowered by the stories she has discovered and proud of her new arts and craft creation.
We recommend our 12×12 Scrapbook for girls aged 8-18. Your middle school, high school and even college student will enjoy it!

One of a Kind Activity
By combining both education and fun, our 12×12 scrapbook is a one of a kind activity she will enjoy.

Keepsake Scrapbook
The superior quality of our 12×12 scrapbook along with the unique content of inspiring profiles and self-assessment tools make this a keeper to revisit in years to come.

Empowering Profiles
Learning about 15 inspiring women and their specific stories will leave her feeling empowered to tackle the world.

Self-Discovery
Completing the included 5 self-assessment worksheets provide insights into her likes and future aspirations.
Scrapbook Kit Contents
Each She's All That Scrapbook comes with everything you need to get started.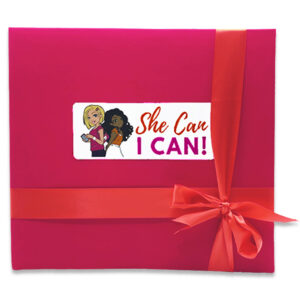 12×12 Scrapbook
Our hard cover 12 x 12 scrapbook can hold up to 20 pages. Scrapbooks are available in 3 design options. They can be expanded to add additional sheets if desired.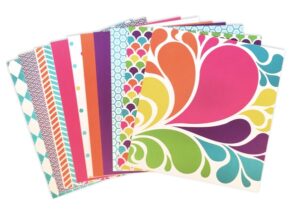 Coordinated Scrapbook Paper
20 brightly colored sheets of coordinating 12 x 12 cardstock paper is included.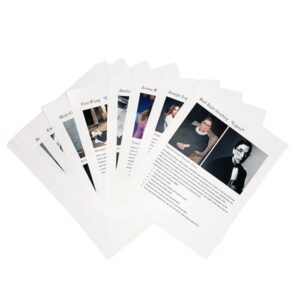 Themed Profiles
Choose from 5 Themes to find the right content. Theme Packets include 20 profiles of successful girls/women based upon a category. Themes include – 1) General, 3) Business & STEM, 4) Creative & Entertainment, 4) Community &Activism, and 5) Sports.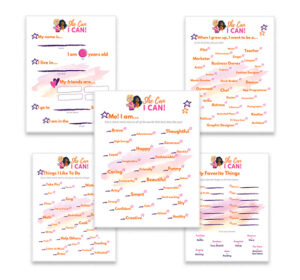 Self-Assessment Worksheets
Our self-assessment worksheets are fun tools for her to take inventory of her likes and interests. The 5 individual sheets are discovery tools for her to understand possible future career paths. A great foundation can be laid by having her do this type of self-reflection early in life. Feel free to make this a joint activity.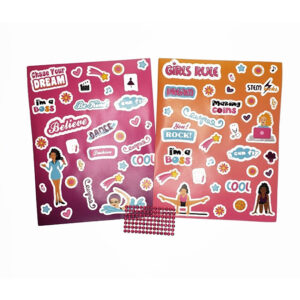 She Can I Can Stickers
Our She's All That Sticker Sheets are custom designed female power stickers. Over 50 stickers are provided to compliment the scrapbook. And what girl doesn't love bling! We have included 100 bling stickers as well.